I apologize for not posting last month.
May it never happen again.
And I have dubbed February 2014 ...
The Chess Blog's Lost Month
"So let it be written, so let it be done."
"The tactician must know what to do whenever something needs doing;
the strategist must know what to do when nothing needs doing."
Read all about it! Grandmasters are scheming to get a qualifying seat for the 2016 World Cup. And t
he age limit for seniors, which used to be 60, was recently reduced to 50. Hey, maybe I could compete
for the senior European title. Yeah, right! :o) :o) :o)
Chess puzzle: G von Moellwitz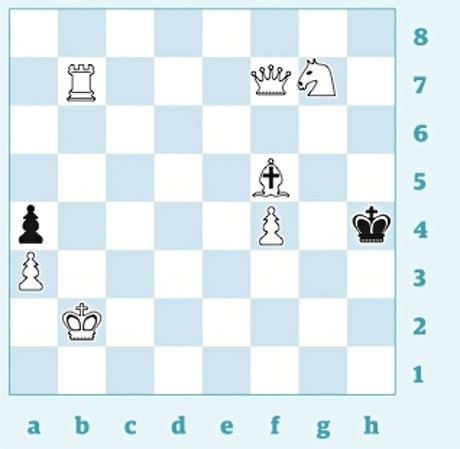 January solution: B x g7+
Do you know the (correct) next 3 moves?
Click here to submit your answer.
T
he answer to this chess puzzle will be in next month's
chess blog. Good luck!
Of course, if you get really stumped, read this month's chess article (see above).
NOTE: Prizes will no longer be awarded for the chess puzzle. They will now be awarded for RHCL Chess Club attendance. You must sign-in on the Attendance roster and attend a Monday and/or Friday chess club meeting to be entered for the drawing. The more chess club meetings you attend, the more entries you will have toward winning the monthly prize. The entries for the previous month's attendance will be drawn on the first Friday of the next month. Example: March's attendance roster entries will be drawn on the first Friday in April.